I was thrilled to receive word on Friday that an image that I had submitted for an upcoming Lensbaby book, while not one of the 12 images picked for the book itself, was selected from almost 2,000 submissions to be included in the Honorable Mentions Gallery (see page four for my image). Also pleased that it was one of the first lensbaby images I ever captured! With the acceptance to the gallery, also comes the invitation to submit images for use by Lensbaby on their website or beyond. You can view more of my Lensbaby images by viewing my "Lensbaby Category" on this blog.
On Saturday Rebecca and I went to Fabric Land to choose patterns and fabric for her upcoming Elite Fashion Prep class at The Sewing Studio. As it was our first time choosing a pattern and fabric, it took us quite a while! But we are both so thrilled with what we found/choose.
(Equipment Used: The following were all shot with the Canon EOS-1D MarkIII, and the Canon 24–70 mm f2.8L lens. The Canon 580EX II Speedlite was used for both shots of Alice. The fabric was shot in natural light.)
One project will be a vest, with the polka dot fabric as the main fabric, and the pinky/green for the lining. I think it will look amazing when completed, and will be sure to post images of Rebecca modeling her vest: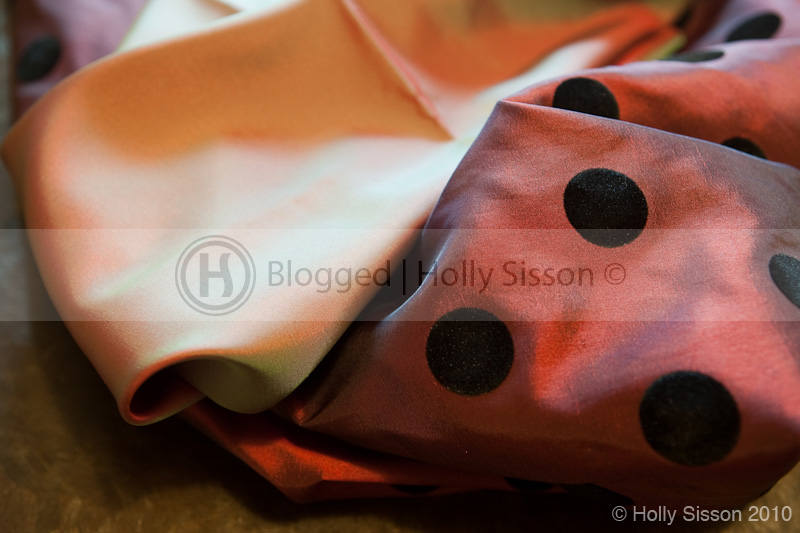 The second pattern, which was suppose to be a skirt (but Rebecca couldn't find any skirt patterns she liked), will hopefully be her graduation dress. The black fabric will be the main part of the dress, with the red fabric being the lining, but Rebecca also wants to use it for colour on the dress. She plans to have it extend beyond the hem of the black part of the dress, and also plans to add a slit, the bottom part of the dress, to show the colour. Again, excited about how it's going to turn out!


And, since I'm posting, a few of Alice. She has found a new spot to snooze, on top of the covered rad in my bedroom. I really don't understand how she doesn't overheat! 😉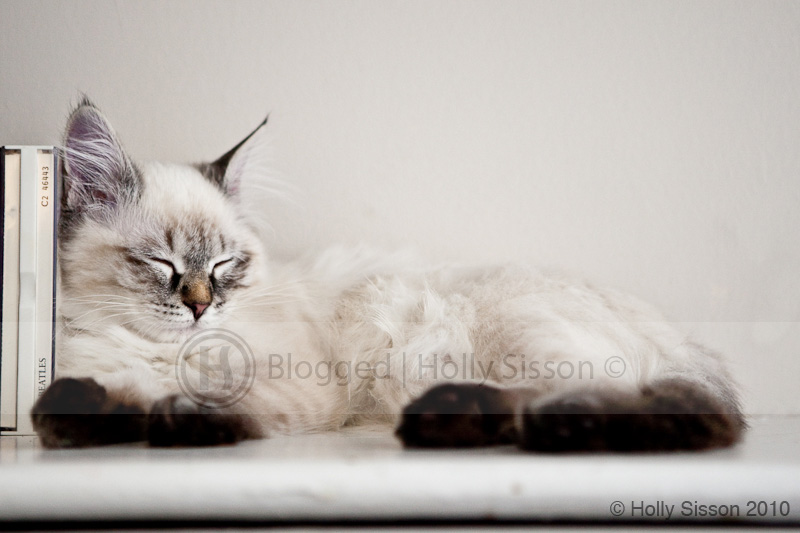 Oh, if only 'I' were this flexible! Is this crazy or what???