I haven't posted images of Alice lately, so thought it was time for some new ones, and to mix it up, quite a few are shot and processed on the Apple iPhone.
Really love this one, she is at the front window watching life go by:

(shot & processed on the iPhone)
The camera in the iPhone 3G isn't fabulous, so I use iPhone apps to give the images a vintage 'toy camera' look:

(shot & processed on the iPhone)
My new faves for the iPhone are BlurFX and PictureShow. Blurring the background of the iPhone photos helps to bring the focus to the subject and smooth out/de-clutter the "everything in focus" aspect of the iPhone camera. PictureShow is great as there are SO many options from different effects, frames, light leaking, and noise, the only downside is it can take a while to decide on your fave look for the image!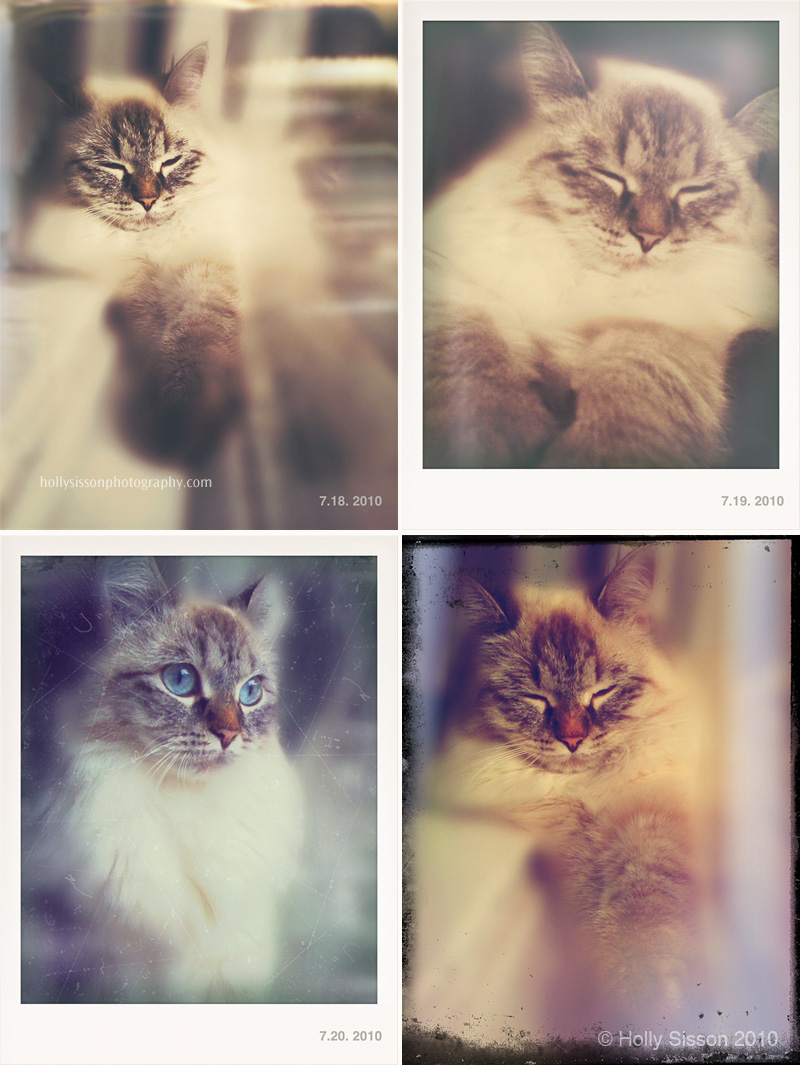 This is a goofy photo of Alice, who was hanging out with me in my office, when she heard my daughter coming. She sat up straight and got this crazy wide-eyed look on her face, Rebecca and I laughed!


She was still keeping an eye on Rebecca, before she settled down on my Apple Airport to snooze. The last image was a shot I captured of her snoozing on my daughter's shoes?, you can see the iPhone version above, cats sleep in the strangest places! lol


Well, from my previous post on the Robin's nest in front of our house, you know there used to be two babies, but the smaller one disappeared. 🙁 None of the  other eggs ever hatched, so this little guy grew very fast! The following were shot with the Hipstamatic app on the iPhone, the little guy in his nest, and then all grown up out of the nest:


Shot with the Canon 1DMkIV with the 70-200mm f2.8L and the Canon 100mm f2.8 macro, we see the father keeping watch, below that the mother on the nest, the baby on the nest and then out of the nest:


(See "My Camera Equipment" in footer section for links/more information on camera equipment used.)
Last shot of the baby Robin as he heads out into the world, shot and processed on the iPhone: