Whoa nelly! These cookies are super sweet and rich! I couldn't even finish mine, but Noah was happy to finish mine up. My daughter, and a friend, grabbed a couple on the way out the door, will have to hear her consensus before I decide whether we'll bake them again (I know it's a thumbs up from my son, he wanted to eat another one!). (Recipe posted after the photos.)
(All of the following were shot with the Canon 1DMkIV and the lensbaby composer lens.)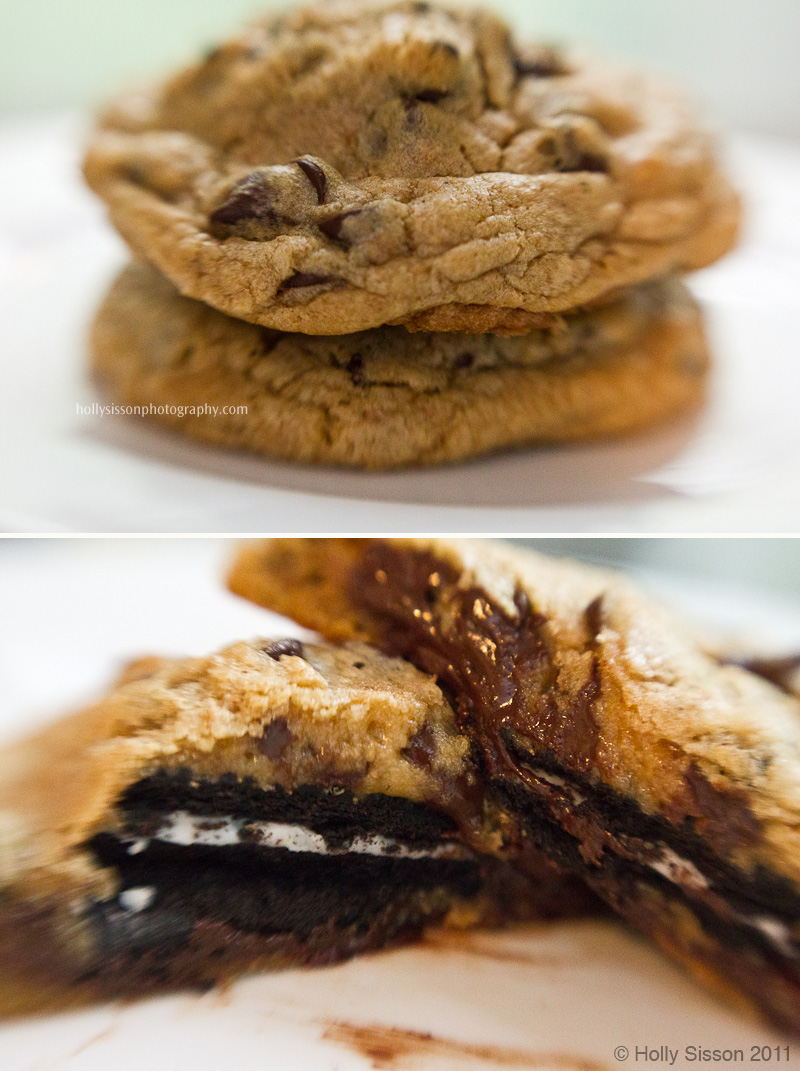 Oreo Stuffed Chocolate Chip Cookies
1 cup butter, softened
3/4 cup packed brown sugar
3/4 cup white sugar
2 large eggs
1 tablespoon vanilla extract
2 1/4 cups all-purpose flour (we used half whole wheat/half nutri-grain flour)
1 teaspoon salt
1 teaspoon baking soda
2 cups semi-sweet chocolate chips
1 package Oreo cookies
Directions:
Preheat oven to 350 degrees.
Combine flour, baking soda and salt in small bowl. Beat butter, granulated sugar, brown sugar and vanilla extract in large mixer bowl until creamy. Add eggs, one at a time, beating well after each addition. Gradually beat in flour mixture. Stir in chocolate chips.
Place one scoop of dough on the top of an Oreo and once scoop underneath it. Use your (clean) hands to mold the dough around the Oreo so that there are no holes. Place on cookie sheet and repeat until you have used up all the cookie dough. (We found the dough too soft and sticky to use right after mixing, so refrigerated it for a while before making the first batch.)
Bake for 9 to 13 minutes or until golden brown. Cool on baking sheets for 2 minutes; remove to wire racks to cool completely.
BTW, the images do not show how LARGE these cookies are. They really are three cookies in one, two chocolate chip cookies + the Oreo cookie. Enjoy!