Well, I haven't had much of a chance to update my blog since my daughter went away…and now she's home again! So, in chronological order, here's the last week and a bit.
Noah and I passed the time well, and spent a lot of time at the park:


On his last day of weekly tennis lessons, we managed to get to the park before the wading pool was emptied, we didn't exactly have our swimsuit on, but that didn't stop us from joining in on the fun!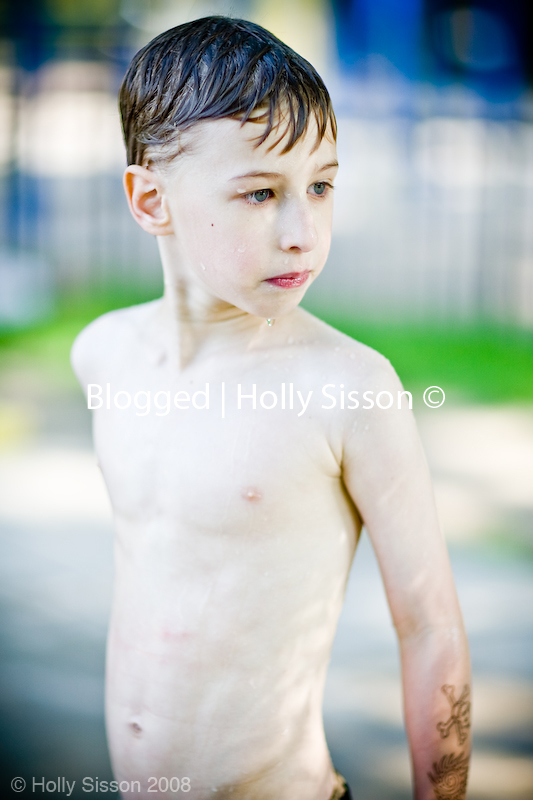 Love the bokeh in the next two shots, such a summery feel to the images as well:





Yeah! Rebecca is home and happy!!!



She came with me to pick up her brother from camp, they bonded on the way home:



On Canada Day we went to the park, since the wading pool was open for the day. A low key day to recover from the long travel day (for Rebecca) the day before:



Noah very much enjoyed the water!



As did Rebecca:



After Rebecca got out, and was lying on her towel beside me drying off, she suddenly exclaimed that she saw a bunny across the school yard, and took off. Sure enough this little guy was over by the school, among the plants:



And even more surprising this 'little' guy was over on the grass, all by himself, just sitting there, and not moving. Rebecca sat with this one for a long time, but didn't touch him (or her), through I know she was very tempted to because he's so cute!



To give you an idea of just how small this bunny was, those are my daughter's hands on either side. Another mom almost stepped on him!



After she sat with him for over an hour she came back to the wading pool:



As did Noah:



LOVE the bokeh in this shot! So cool when shot wide open:



A rare caught moment between brother and sister:



We then went home for a few hours, had dinner, and came back as sometimes they have fireworks in the park (but they didn't seem to this year). As we were starting to head out of the park, to go home for the night, we saw the bunnies again! I'm pretty sure this is the tiny one from the grass:



Who then went into a flower bed, and just sat by the wall and didn't move (again!). Perfectly camouflaged, you probably wouldn't even notice if you weren't looking for a bunny!



We went to take a look at the other flower bed (which is full of foliage, so a better hiding place for bunnies), and two bunnies came out and then ran back in! I don't know where all these little guys are coming from, or, as Noah says "Where their Mudder is", but I guess we'll be hunting for bunnies the next time we make it over to the park…will post updates if we see them again!